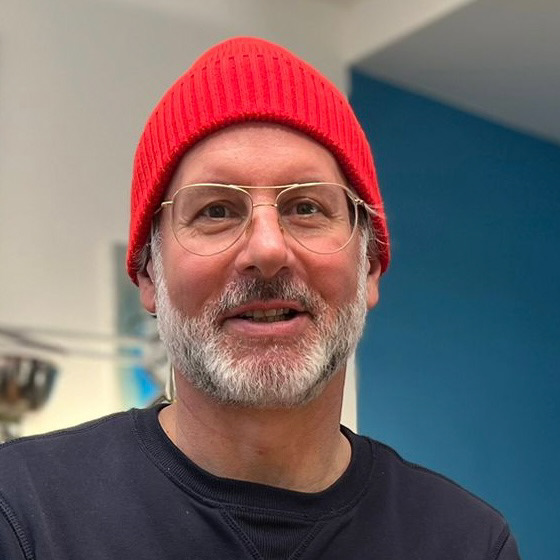 Karim Blanc, cosmopolitan frenchman born in 1968 in Iran, has lived in Algeria, Lebanon, Burkina Faso, Norway, Canada and France and now in Vienna since 12 years.
He is a creative gourmand: painter, illustrator and chef. Trained at the Beaux-Arts in Aix en provence, France and at the Art University of Montreal, Canada. Today his work oscillates between visual and culinary arts, according to the projects and seasons.
As an illustrator, his interest is mainly focused on plant life, exploring the human relationship with nature and food.
As a freelance chef, he is active on film and advertising sets, and for selected custom events.
He worked at Vice Magazine during 10 years, he illustrates for editorial offices, the advertising and the art scene, he is regularly involved in exhibitions and events and has contributed to various magazines.
Karim Blanc, français cosmopolite né en Iran en 1968. Il a vécu en Algérie, au Burkina Faso, au Liban, en Norvège, au Canada et en France, il s'est posé à Vienne depuis 12 ans.
C'est un créatif gourmand qui s'adonne  à l'illustration, la cuisine et les arts visuels. Il a été formé aux Beaux-Arts d'Aix en Provence, en France, et à l'Université du Québec à Montréal. Aujourd'hui, son travail oscille entre les arts visuels et culinaires, au gré des projets et des saisons.
En tant qu'illustrateur, il s'intéresse principalement au végétal, explorant la relation de l'homme avec la nature et sa nourriture.
En tant que chef cuisinier indépendant, il travaille sur les plateaux de tournage et de photo, ainsi que pour des événements spéciaux sur mesure.
Il a travaillé pour Vice Magazine pendant 10 ans, il illustre pour l'édition, la publicité et la scène artistique, il est régulièrement impliqué dans des expositions et des événements et a contribué à divers magazines.